Students from the Journalism & Publishing studio block course offer the following reflections from the first two months of the school year.
Red, White, and New!
By Nick Hallenbeck, Jo Hardigg, and Talos Prophet (all class of 2020)

The New Faces dance took place on September 19, 2014. The theme of the dance was patriotism. Like all Academy dances, we were asked to bring a canned good as an admission fee. The Common Room was divided in two; one half was for soda drinks and treats, and the other half was for dancing. Margaret Bennett '15 and Sam Hersh '15 served drinks. When we interviewed students and staff about the dance, 10th grader Tucker Boyd said, "The New Faces dance was very fun because it was a great introduction to the community and it gave me the opportunity to meet new people."
"I thought it was a lot of fun," said science teacher Mr. Doug F., "It looked like everyone had a good time, and there were a lot of things to do for people who didn't want to dance, like games in Melpomene and reading in the library." If people were to say one word to describe the New Faces Dance, most people would say "fun" or "awesome". Overall, it was a great dance – thank you, seniors!
The Red Cross Blood Drive
By Carly Hall '15
On October 3rd, The Academy hosted a Red Cross Blood Drive. The senior class was responsible for running the registration, supporting people giving blood, and providing baked goods. We collected a total of forty-two pints of blood and if at the next Academy blood drive in the Spring we can collect fifty-eight or more pints the seniors will be eligible for a scholarship competition.
Girls Junior Varsity Soccer
By Corinne Laird '20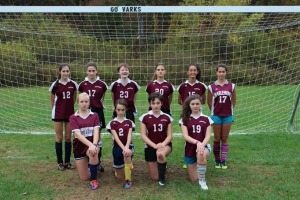 Goal! The crowd cheers wildly as the Aardvarks score a goal. Such has been the scene at many a Girls Junior Varsity soccer game during this amazing season. We've had some tough games, but we are always positive about our losses. Amelia Chalfant '19 and Lilah Feitner '18 show incredible skill in goal, and Chessie Ruggiero-Corliss '19 boots the ball to the other side of the field almost every time it gets past the defense. The midfield and offense have succeeded in moving the ball to the opposing side of the field a lot, though the other teams' goalies have made many close saves. In practice, we scrimmage, do drills to hone our skills, and of course run plenty of campus laps to build strength. Hopefully, we'll continue to have amazing games and finish up our season strong.
New Lunch Program
By Jeremy Forbes and Jo Hardigg (both class of 2020)
The new school lunch program at The Academy presents delicious and varied meals every day. With the help of various student groups, Mr. Stan Langston, our chef, makes us food from a variety of cultures. The Academy is quite open to different people, so if anyone is vegetarian or vegan, there will be options for them as well. Lunch costs six to seven dollars, depending on the meal. Everyone should try it, because we think it's tasty!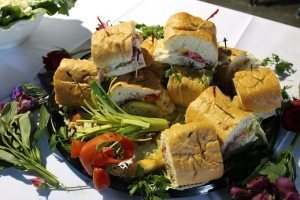 Mountain Day
By Zev Lane '20
As is tradition, Academy students don't know it's Mountain Day until the school calls everybody early in the morning to tell them so. This year Mountain Day took place on October 6th. As usual, we hiked Mount Greylock in Adams, MA. There is a gorgeous view at the top and you can see all of Adams and the surrounding towns. It is a fun day to be with your classmates and friends from other classes as well. Mountain Day is always a high point of every year; we hiked, laughed, and encouraged each other up the mountain – and back down again – where refreshing apple cider awaited us before we boarded the buses to return to campus.