Visit the Academy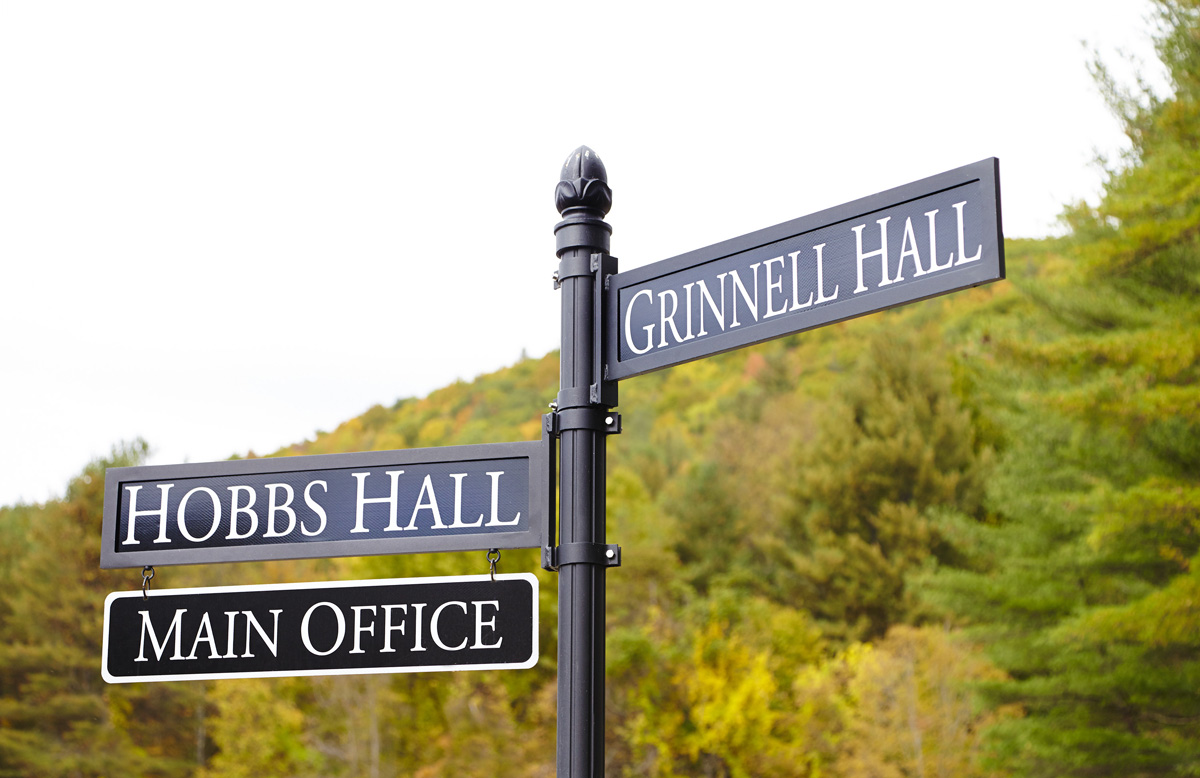 The Academy is located in the Deerfield River valley along the historic Mohawk Trail. Our forty acre campus includes two classroom buildings, playing fields, and wide open spaces with great views of the river and surrounding hills.
A school is more than its facilities, and that's especially true at The Academy.  The Campus Visit is the best way for a student to experience Academy life.  The quality of relationships here, and the energy and spirit of our school community will become immediately clear when you visit.  From morning meeting through academic and studio classes, lunch and afternoon chores, you'll be immersed in the spirit of the Academy community. Open Houses and short campus tours with a member of the Admissions Office are also good ways to learn about the school.
From Martha Tirk, Director of Admissions

Your campus visit is an important part of the admissions process. An Academy student will host you for a full academic day, from 8:00 AM to 3:00 PM.  Several days before your visit, I'll send you an email with details about the day including the name of your student host, the classes you'll attend, and the faculty member with whom you'll have a conversational interview.
You or your parents can schedule your visit by calling me at 413-339-4912. Here are some things you need to know.
The Day
Your parents can bring you to school in the morning and pick you up at the end of the day. They are welcome to stay for Morning Meeting and then meet with me, or we can meet in the afternoon before your day is over. We will arrange this when we schedule your visit.
Park behind the main building and go to the foyer. We'll be waiting to greet you there.
Plan to arrive about 7:50 AM so that you can meet your host, get your bearings, and find a seat for Morning Meeting. Our school day starts with the whole school community being summoned to the Common Room with the peal of the tower bell.  If you'd like to ring the bell, you're welcome to do so! Our daily Morning Meeting, where students make announcements and game reports, and bring attention to matters of community interest, is the very best way to find out what The Academy at Charlemont is all about.
You'll be welcomed in all the classes you visit with your host and will probably enjoy participating in the discussions and activities in the classroom. You may happen on a short quiz or study period, though, so bring a book just in case.
On Tuesdays and Thursdays we have Studio Blocks which are two periods in the morning devoted to music, art, film, creative writing and other creative endeavors. If you come on one of those days, you will accompany your host to his or her studio classes or meet with a faculty member from the Admissions Committee for a conversational interview.
Your parents should pick you up in the foyer at 3:00 PM. We'll all meet there to say our goodbyes for the day.
Lunch
You are invited to be our guest for lunch, and each day we make certain to offer a vegetarian option. If you prefer you may bring your own lunch (plenty of our students choose to do so).  
Your Host
Your host will contact you the night before your visit to say hello and see if you have any questions before your visit. If you're applying for seventh grade, your host will be a current seventh grader.
If you're applying for an upper grade, your host will be a member of your current grade, but I may arrange for you to visit a class or two in the grade for which you're applying as well.
You'll find Academy students are friendly and proud of their school. Many volunteer to host prospective students because their own visits were so much fun.
The Interview
During the day you will meet with a faculty member from the Admissions Committee for an interview.  Be sure to bring any questions you have about life at The Academy and while it's not a requirement, we'd love to see an art or writing project of which you're particularly proud.
Snow Days
In the winter months we sometimes have a school cancellation or delay due to the weather. If that's the case, I will call your family at 6:00 AM to cancel your visit. Make sure I have the best phone number for this call. I'll call later that day to reschedule your visit.
Transportation
It may be possible to arrange a ride to or from The Academy on one of our buses. Arrangements should be made for this when your visit is scheduled. We'll make sure a student is assigned to be your host on the bus.