Transportation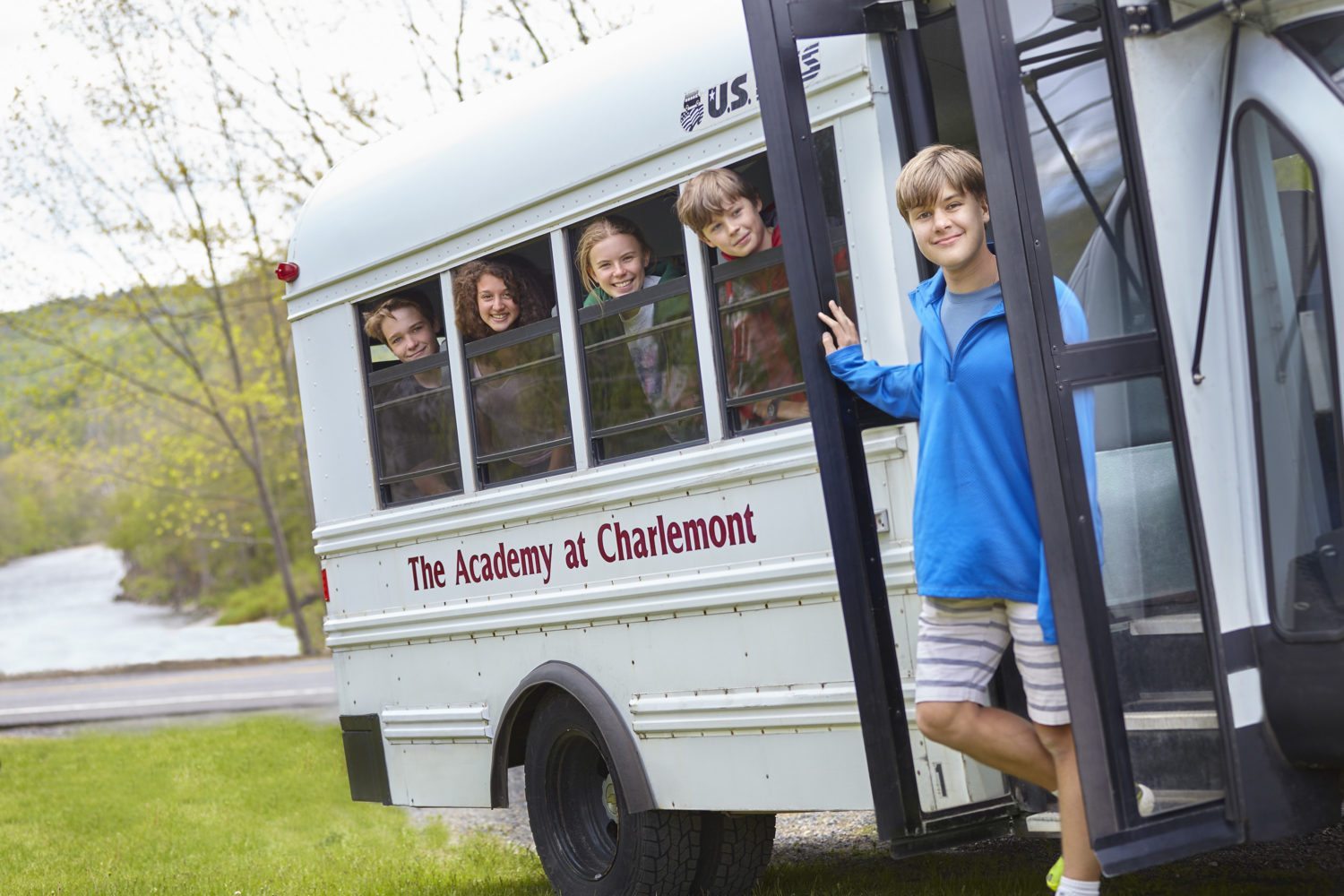 Academy students live in Western Massachusetts and Southern Vermont, and all of them commute to campus every day. Most students arrive on one of several buses that serve as "trunk lines" into their home communities: daily round-trip bus service is available from the Amherst/Northampton area, Greenfield, Shelburne Falls, and some Hilltowns of western Franklin County.
The Academy views buses as the ecologically responsible way for our students to get to campus, and as an additional opportunity to wind down with friends and practice good citizenship. We work hard to keep bus pass prices as low as possible.
The Academy's three bus routes currently serve families in and around the following communities:
School Bus #1: Northampton – Florence – Williamsburg – Goshen
School Bus #2: Amherst/Hadley –  Sunderland – Deerfield – Conway
FRTA: Greenfield – Shelburne Falls – This is a public bus route with additional connections to other towns.
Current Transportation Schedule
Sports and Bus Schedules
Home Games – Students will usually be able to make the buses in time. We cannot hold the buses for home games because it would delay everyone else's arrival time. Because it is a public route we cannot hold the FRTA for very long.  Any student who regularly rides the FRTA may leave the game and hop on the bus if that is what a parent wishes. Otherwise, parents will need to make other arrangements.
Away Games – Parents should assume that students will miss the buses and that arrangements will need to be made for getting students home, either from the field after the game or from the school. Teams usually return to the school between 5:45 and 6:30 p.m. from away games. These times are always estimates. Again, please check with Athletics Director John Schatz if you have any questions about the return times of away games or call the office.
Winter Season – Winter afternoon transportation schedules may vary throughout the season. Winter activities are optional but about 80% of our students participate in drama, basketball, or skiing/snowboarding. Between the end of the fall sports season and winter break, afternoon buses are likely to depart at 3:15 daily. From the time school reopens until Spring Break, buses will depart at 5:15 Monday–Thursday and at 3:15 on Fridays. This plan is subject to change, depending on student involvement in the various shoulder season activities, and we will keep families notified of changes as they are scheduled. For students who are not participating in a winter activity, parents may pick them up at 3:15 or the school provides a supervised study hall between 3:15 and 5:00 PM on days that buses depart at 5:15. The FRTA runs at 3:15 and 5:40PM daily throughout the school year.
For up-to-date information on game schedules, please refer to our calendar.