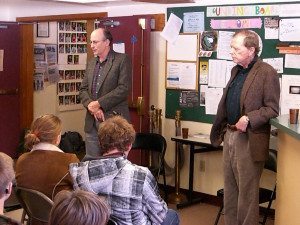 Pulitzer Prize-winning author Tracy Kidder and editor Richard Todd spoke on February 26, 2014 to students, faculty, and community members at The Academy at Charlemont. Kidder and Todd have worked together for many years and recently co-authored Good Prose: The Art of Nonfiction. They talked with students about their careers, their work together, and the inspirations and challenges of writing and editing
Tracy Kidder graduated from Harvard and studied at the University of Iowa. He has won the Pulitzer Prize, the National Book Award, the Robert F. Kennedy Award, and many other literary prizes. The author of Strength in What Remains, Mountains Beyond Mountains, My Detachment, Home Town, Old Friends, Among Schoolchildren, House, and The Soul of a New Machine, Kidder lives in Massachusetts and Maine.

Richard Todd has written cultural criticism for a number of magazines, including The Atlantic Monthly, The New York Times, and Harper's, and he has contributed travel reportage to Condé Nast Traveler, Travel and Leisure, Golf, and other magazines. He has had a long career as a magazine and book editor, serving as executive editor of The Atlantic, and as editor of New England Monthly, and publishing books under his own imprint at Houghton Mifflin. He continues to edit a very small group of writers. He is the author of The Thing Itself: On the Search for Authenticity. A graduate of Amherst College, he has taught there, and at Smith College and at the University of Massachusetts. He is currently on the faculty of the Goucher College MFA program, and lives in Massachusetts.