Curious what Academy students were up to during this unusual summer? Take a read below!
Caden '23
After completing his assembly of a chicken coop made from completely recycled materials for our studio block "Project Upcycle", rising sophomore Caden has spent his summer taking up traditional Finnish woodworking: "My father and I are proud native samí, our traditions include many things, but music is traditionally how prayer takes form in samí shamanism. The kantele is a sacred instrument to our people, and other samí groups as well. Other samí tribes will have other forms of zithers, the kantele is a type of zither native to Finland. I've started to make lyres as well, and I engrave my work with samí runes used in shamanism. I'm currently figuring out how to sell my pieces on Ebay." Check out this video of Caden playing some tunes on one of his handmade instruments!
Haven '22
"Over the summer I continued climate activism work and focused more on the intersectionality of the climate crisis. As the MA house voted on many smaller amendments and one large climate package I worked closely with Our Climate (@ourclimatema) and Sunrise (@sunrisewmass) to organize around key legislation that best aligned with the MYCC (MA Youth Climate Coalition) policy requirements (
bit.ly/MYCCPolicyReqs
). While many of our goals were not met, we had a major win with an Environmental Justice amendment being passed as a part of the Roadmap bill in the house! Currently I am working to organize actions around key legislators who blocked necessary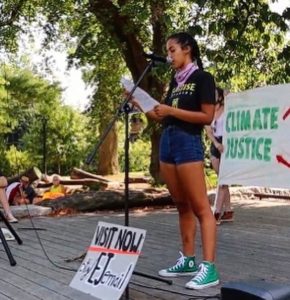 legislation to fight the climate crisis. I was an organizer for the Sunrise Western MA BLM Environmental Justice March and banner drop, as well as giving a speech about the intersectionality of climate and environmental justice. I've also been working on some smaller scale projects with Sunrise Franklin County and Sunrise Hilltowns throughout the summer! I have continued to work on the coordination team for the MA Climate Education Organization (@massclimate), working to make our org run smoothly as we fight for climate justice to be included in MA education standards. A lot of the work that I do relates to internal dynamics and relationships, and I have really enjoyed getting to go much deeper into that vein of activism throughout the summer! I have also been taking a course in understanding capitalism which has been very beneficial in my work as an activist!"
In addition, Haven also helped to organize Earth Week––she helped to lead two webinars and spoke at a virtual rally with Senator Ed Markey!––and Lobby week, where she represented Our Climate and served as a meeting facilitator. In addition, she continues to do social media for Our Climate and Sunrise.
Ruby '22
"I am part of the Massachusetts Youth Climate Coalition which is a diverse, youth-led network of organizations committed to centering the voices of Massachusetts's young people in the climate movement founded in February 2020. I was part of the organizing for the M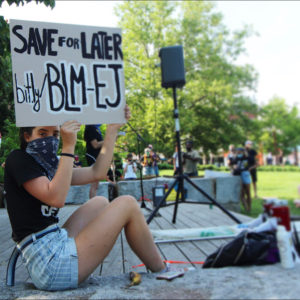 YCC lobby week! We spent hours organizing meetings with our legislators and gathering young people from MA to be in our meetings. We were able to have dozens of meetings with our Senators and Representatives advocating for three Indigenous rights bills (S.1811, S.1877, S.2593), a Carbon Pricing bill (H.2810), a Renewable Energy bill (H.2836) and an Environmental Justice bill (H.4264)."
"Another amazing Mass Youth Climate Coalition and Sunrise WMass Coalition project I got to help organize was Earth Week! Due to COVID-19, both organizations were not able to have the usually amazing Earth Day actions but that did not stop us from taking action and spreading awareness about climate change. I help present a teach-in about the Green New Deal and a MYCC presentation about what MYCC is and how to join it! There was a ton of organizing needed for Earth Week, these are just some of the dozens of actions taken."
Below are some photos from the Sunrise Western Mass Coalitions Black Lives Matter, Environmental Justice march where Ruby spoke, joined by a few current and former Academy students. "It is so important," Ruby says, "to understand and address the intersections between the climate crisis and racial inequality. . . We also had an amazing banner drop! We worked for days on six banners. Some stated things like BLM, environmental racism is real, defund the police, and a huge banner reading our demands!"
Skye '24
9th grader Skye kept busy at home this summer cultivating shiitake mushrooms (inspired by his 7th grade Community Service Day with The Academy!) and building a mountain bike course! Read more about these exciting projects below: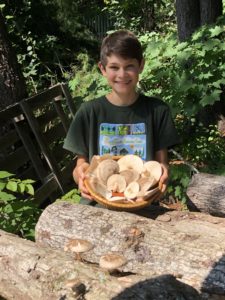 On the mountain bike course: "My dad and I had been thinking about building a mountain bike trail for a while and since there was little else to do during lockdown we decided that this would be the perfect time. First we laid out and marked the course with flagging tape (the fact that my dad builds/maintains trails for his work was very helpful throughout this process). Then we had to take out all of the branches, sticks, trees and leaves in the trail until it was rideable. The trail is small and about half a mile long, and has multiple features such as log rides, rock rides, sound features, and berms."
On the mushrooms: "The event that made me want to grow shiitake mushrooms was actually my seventh grade Community Service Day where we helped at a farm that grew shiitakes. My family had previously owned logs and we decided that it would be fun to do it again. First my dad obtained five logs and a kit for inoculating them, which included wooden mycelium plugs and wax. Next we drilled holes in the logs, hammered in the mycelium plugs, and sealed the holes with the wax. Then we waited for about a year for the mycelium to take over the log. Now, about every 2 – 4 weeks we either soak them for about 24 hours in a large plastic tub and wait for the mushrooms to pop up. We have a total of five logs and each soak they produce about a total of 15 – 20 mushrooms."