Cross-country runners had a great meet at Four Rivers on Wednesday. Avery M (4th), Paloma H-S (6th), and Katie T (28th) had a strong showing in field of 60 female runners. On the boys side, Will D (3rd) finished a mere 9 seconds behind the leader, while Eli C (32nd), David C (41st), Izzy S (56th), Rory S (58th), and Jeremy F (67th) rounded out the AaC boys' finishers, who placed 6th out of the 9 schools represented.
Girls Varsity soccer persevered through very wet weather conditions this week to play two competitive games against Putney and Four Rivers. Both resulted in 5-0 losses, but the team showed wonderful growth. 7th graders Tayanna L and Emmy P-C stepped up to play with the team, and all the girls put in tremendous effort and spirit in some terrible weather. Calla J, Ruby C, and Izzy B led the offensive attack, while Gwen H did a nice job in goal.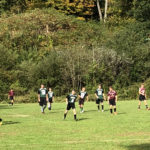 The Boys varsity defeated White Oak 7-3 on Thursday behind 4 goals from Harper W-W and 3 from Raymond M. Ishan S (2), Nat B-O, Harper, and Nick F all contributed assists, while the team as a whole displayed excellent passing. Nick C had a strong game on defense, and Nick H recorded a shot on goal as well.
Kayakers spent all day 
Thursday
 on the river, using the skills they've honed so far this season.