Affording the Academy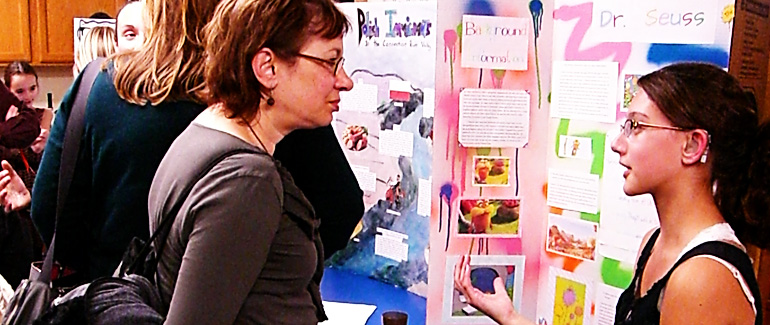 An Academy education is an up-front investment that pays dividends over a student's lifetime. Whether measured in terms of academic preparedness for college, college and university placement outcomes, social and emotional health, or range of creative expression, The Academy helps young people prepare for college and a purposeful life beyond schooling.  The Academy is committed to building a socio-economically diverse student body through need-based financial aid grants and, as a result, over half of our students receive financial aid each year.
According to the National Association of Independent Schools, families who choose independent private schools like The Academy often cite teacher quality, academic standards, and individual attention as reasons for their choice. You'll find all those things at The Academy, plus you'll also find a vibrant, supportive, and safe community with a socio-economic mix like that of our students' hometowns. The Academy recognizes that for all families an independent school education is a significant financial commitment and one that many families would not be able to make without help from the school.
Tuition & Fees for 2014-2015
The average family pays about $15,000. Tuition for grades 7 and 8 for 2014-2015 is $19,300.  Tuition for grades 9-PG is $24,500.  Over half of our students receive need-based financial aid grants each year. Family circumstances differ, but many families with incomes of up to $150,000 qualify for financial aid at The Academy.
A financial aid is a direct aid grant that does not need to be repaid. The Academy uses an outside evaluator to determine a family's need for aid,  the School and Student Service (SSS), which is sponsored by the National Association of Independent Schools (NAIS).   After considering many factors such as income, net worth, family size, and the number of children in tuition-paying institutions, SSS estimates parental contribution toward tuition at The Academy. The Academy's financial aid committee reviews this information and federal tax return(s) before meeting a portion of the demonstrated need for financial aid.
Download 2014-2015 Tuition and Fee Schedule here.  For any questions on these matters, please contact our Business Office at businessoffice@charlemont.org.