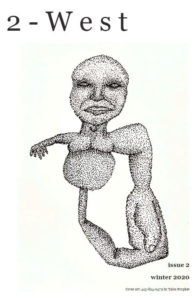 The Academy at Charlemont and 2-West Magazine, a student-run, inter-school literary magazine launched by The Academy's Inter-school Relations council in the spring of 2019, present a Social Distancing Writing Contest!
2-West will publish its Spring 2020 issue in late May; submissions for this issue are open until April 20th.an
All writing submissions received from 12- to 18-year-old members of Franklin, Hampshire, or Berkshire Counties in Massachusetts or Windham County in Vermont will be considered for the contest, as well as for publication in the issue.
Participants may submit as many entries as they would like, but each participant is eligible for only one prize.
There will be two divisions, one for students 12–14 and one for students 15–18.
First place in each division will receive a $50 gift certificate to Broadside Bookshop in Northampton. Second place in each division will receive a $25 gift certificate, and third place in each division will receive a $10 gift certificate.
Academy humanities faculty and 2-West's student editors will judge and award prizes
Winning pieces of writing will be published in the Spring 2020 issue of 2-West as well as on The Academy's social media pages.
Submit here by April 20th!