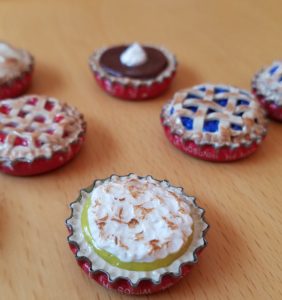 Thank you to all the pie lovers over the years for supporting our Academy at Charlemont APC Pie Sale at The Ashfield Fall Festival. With the festival on hold this year due to the pandemic, we will miss visiting with our faithful supporters, current and alumni families this October.
Please consider donating the traditional cost of a pie ($15) to the Academy Parent Council. We use these funds to support the staff and students at the school.  Last year, a majority of our proceeds supported the January Grinnell Sessions (a few days of mini-courses), specifically funding for an outdoor exploration group, a baking group, and materials for stage makeup and printmaking groups. We also purchased a digital camera to support the arts program. We are confident there will be needs we can support this year, given these unusual circumstances.
To make a donation, please enter your information below. In appreciation of your donation, we will send you a homemade pie magnet (examples pictured above), along with a $5.00 gift certificate towards a pie at a future Ashfield Fall Festival.  We appreciate your support and look forward to selling regular-sized edible pies in 2021! Please contact Diane Bigelow with any questions.