February 29 & March 6, 7:30 PM; March 1 & 7, 2:00 PM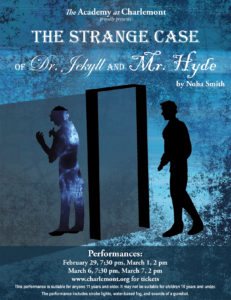 The Academy at Charlemont Presents
The Strange Case of Dr. Jekyll and Mr. Hyde
Dr. Henry Jekyll is a brilliant scientist frustrated by dull "respectable" life in 1888 Victorian London. He creates a formula to unleash his inner bestial nature, transforming him into the brutish but oddly compassionate Edward Hyde. Hyde lives the high life while Jekyll's middle-aged normalcy continues—until Hyde's passions get out of hand. This intimate version of Robert Louis Stevenson's science fiction classic features two haunting narrators, who speak to Jekyll as the voices in his head, spurring him toward triumph and tragedy. Come join the Academy actors as they bring this dark story to life!

This performance is suitable for anyone 11 years and older. It may not be suitable for children 10 years and under. The performance includes strobe lights, water-based fog, and sounds of a gunshot.
Performances for The Strange Case of Dr. Jekyll and Mr. Hyde will be at 7:30 pm on February 29th and March 6th and at 2pm on March 1st and 7th.