In 
September, students from across the grades chatted with Hunter Styles in about his theater and writing experiences, and asked great questions!
In October, Zoë Plakias '04 joined us by Skype from Davis, CA where she is completing her PhD in Agricultural and Resource Economics at the University of California, Davis. She studies agricultural producer organizations in the United States. She is currently working on her dissertation and exploring academic and non-academic job opportunities beginning in Fall 2016. She attended Whitman College (Walla Walla, WA) for several years and worked on tall ships as a crew member and educator in sail training and environmental education programs for several seasons before getting her B.A. in Economics from Western Washington University (Bellingham, WA) in 2010.  Students learned quite a bit from talking with Zoë (and we all learned quite a bit about navigating Skype in a group setting)!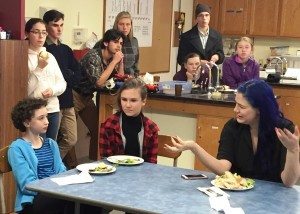 In November, Sarah Banks Hartshorne '05 joined us after visiting family in the area for Thanksgiving.  Sarah went to Boston University, then transferred to Drew University in order to be closer to New York City after being a contestant on America's Next Top Model. She graduated from SUNY Purchase after taking a few years off from college to pursue modeling full time. She worked as a model for seven years.  Sarah was on the cover of Vogue L'Uomo, did commercials, campaigns and print work for many national and international brands and magazines. She also started doing standup comedy – in fact, her senior project involved a stand up routine!  Two years ago Sarah married fellow Academy alum Ian Leue ('03) in Colrain. One year ago she "retired" from modelling and now works full time doing comedy and production.  She's the vice president and head of production at a nonprofit called Project UROK where she produces comedy videos for teens and young adults struggling with mental illness.  Over 35 students spent the lunch hour with Sarah, enjoying her humor and her insights into the worlds of modelling, comedy, and – both poignant and inspiring – her efforts to destigmatize mental illness through humor.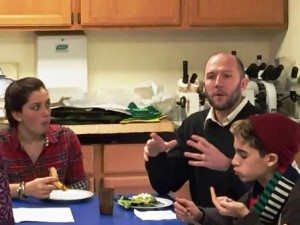 Kipp Sutton '90, also visiting family and friends in the area, stopped by The Academy to talk with students about his work as a Foreign Service Officer for the US Agency for International Development (USAID).  His areas of technical focus are Agriculture and Economic Growth and his main responsibilities are to design and manage development projects in coordination with host-country governments.  Kipp currently lives in Bangkok, Thailand with his wife and two daughters. Previously he worked for USAID in Nepal and 
Afghanistan. After graduating from Middlebury College and prior to his work with USAID he served in the Peace Corps in Bolivia, Paraguay (where he met his wife), and Mongolia.  20 students and several faculty and staff members joined Kipp to hear about how his time at The Academy, the mentorship of Senora Jane Grant, his connections with another Academy family with Peace Corps experience, all influenced his educational and career choices.  We learned about his not-so-secret passion for beach volleyball, a pursuit he honed during the years before graduate school at UC Davis.  In addition, Kipp spent some time with the 9th grade Biology and 7th grade Geography classes, adding some real world perspective to their studies.
In January, Rose Marsters '10 will take time out from her schedule as Legislative Director in the office of Massachusetts State Representative Stephen Kulik to have lunch with students.  More news to follow!
 Academy alumni/ae, please contact us with your interest in participating in the Lunch with an Alum program in the future.  We'd love to welcome you back to campus!